Goals of BCV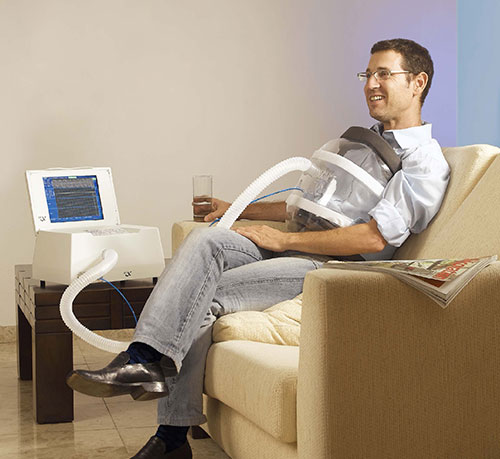 Biphasic Cuirass Ventilation (BCV) is the only form of ventilation to be active on both phases of breathing, applied externally. This revolutionary method has advantages over other forms of ventilation.
BCV works by mimicking the body's own natural respiratory efforts.
BCV in most cases offers a real non-invasive alternative to Positive Pressure Ventilation (PPV). Unlike other non-invasive ventilators, Hayek BCV is:
The only non-invasive ventilator that works physiologically.
The only respirator that offers a means of active secretion clearance and lung recruitment.
Improved patient care: BCV has been shown to work dramatically, increase patient comfort, and avoid many harmful side-effects associated with existing modes of ventilation.
Print Out Information Now
Download and print out our 1-page, printer-friendly, information sheet on BCV to bring to your doctor.
Get a copy